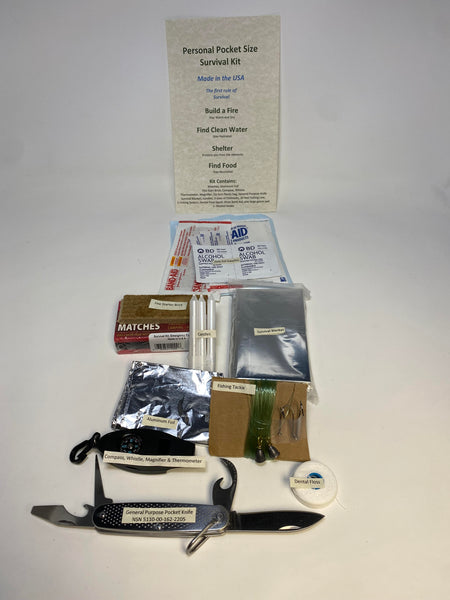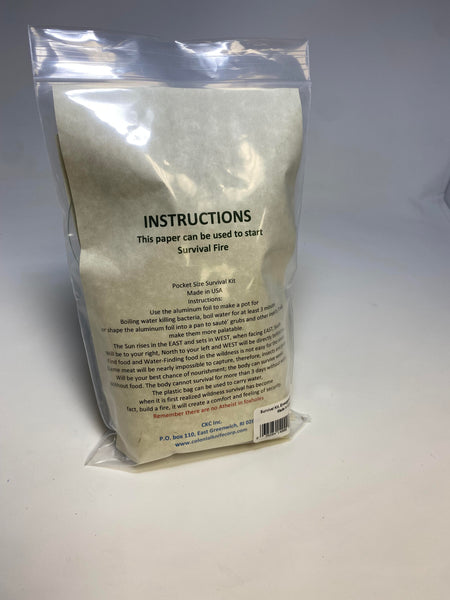 Colonial Knife
Survival Kit
Blade magazine April 2022 special issue reviews Colonial's Survival Kit
By Josh Wayner
"The Colonial Pocket Size Survival Kit is well Thought out!"


Survival Kit, Pocket Size with instructions
         Stay warm and dry and you can survive long enough until rescuers arrive. Fire will prove to be a critical element due to its ability to provide warmth, light, and a cozy atmosphere that calms the mind and helps prevent fear. Water, shelter, food-the The CKC Pocket Survival Kit® is lite enough to carry every day, truly ready to go, a survival kit, designed to help you stay alive long enough until help can arrive.
Prepping and survival equipment came to the forefront of public attention of the popular zombie film and TV genre. In fact, it goes to the point where there was at least a two-year industry-wide emphasis on zombie merchandise, guns, ammo and equipment. While that remains a fond memory for many, what it really served to do was appeal to the broader masses, and many people began thinking about just what they would do in a real, non-zombie emergency.
Since then, the world has experienced no shortage of natural disasters, from massive wildfires to coastal tsunamis, floods, volcanic eruptions and more. The world is no safer a place now than it was before. However, in lieu of zombies ad green goo, the public has taken a keen interest in survival and its tactics. Shows like Alone, Survivorman, Life Below Zero and others captured the interest of many, and bushcrafting, foraging and fieldcraft exploded in popularity. Suffice to say there is no shortage of specialized equipment to better your odds in a bad place.
 SURVIVAL-KIT THEORY
I break down survival items and kits into four categories: Full Kit, partial kit, last ditch and finally a knife only. I would classify our trio of review kits as last ditch in that they contain a variety of small items not meant for extended use but rather as a single-day advantage. They items can save your life in a pinch but by nature of size and weight will likely not last in a long term survival situation. 
Examining the survival-kit theory requires considering the context of just what a survival kit is. The category I identify as a full kit is exactly as it sounds: likely a backpack setup with excellent weight distribution. This includes weapons and ammunition, ideally a rifle or shotgun, or a modern bow. Like it or not, survival in a bad situation increases dramatically with the presence of a firearm. When I got into the woods, I have a rifle and a handgun at minimum with 100 rounds for each, usually in magazines. For the non-American readers out there this amounts to around five boxes of rifle ammo and two of most handgun loads. Hunting use is the primary idea but signaling and self-defense from large predators are also valid uses. If you have the ability to own a gun, you absolutely should, even if that gun is an antique design or blackpowder cartridge.
A partial kit is what you need for a minor excursion, the type of kit you may put in your vehicle if you are far from home but not too far from civilization or a gas station. In the kit I would prioritize a single firearm, typically a pistol of.22 caliber up to .357 Magnum.
The last Ditch Kits reviewed here are if you have already screwed up, failed to bring a suitable weapon, or are fully out of ammunition or supplies. "Baseline, when you break open one of these kits, you are already on your last leg as far as survival goes."
The kits in this article are short-term, almost single use in nature. ALL three come with material enough to work on small pieces of wood and at least signal or start a fire.
Lastly, if you have a single knife good enough to spark with and know how to use it, I'd say that you stand a pretty good chance of survival. I say this because, unlike a last-ditch kit, a good, heavy-bladed knife, the Colonial CE-200 or CE-400 or the Colonial Mark 1 deck knife for example, can be be used to move a surprising amount of material, often quite quickly. A thick blade can easily take down small trees with minimal exertion, baton firewood, make kindling, spark and be lashed to a shaft to use as a spear. In a pinch, you can use a knife to make a bow, though that takes skill and time. For fishing it can make spears and clean your catch.
Understanding the theory of use behind these levels of preparedness, as well as their limits, is crucial to making it through a situation into which you may or may not have intentionally entered. In looking at the review kits I am assuming that we have run out of all other equipment, say a kayak tipping over in the river after hitting an underwater tree on a hunting trip. You, being a forward thinker, slipped one of these kits into the dry bag you stowed in your kayak before you fell in. You're wet, you lost your gun, and you don't have the rest of your gear. You're in normal temperate conditions, but nightfall will be cold. To make matters worse, your kayak has cracked and has taken on water.
"THE COLONIAL POCKET SIZE SURVIVAL KIT, WELL THOUGHT OUT"
At first glance, the Colonial Pocket Size Survival Kit looks like a Boy Scout put it together from his dad's garage, The items are simply tossed into a thick baggy and are mostly off the-shelf. The kit, however, is extremely well thought out.
Kit Contains:
Whistle, Thermometer, Magnifier

Pocket knife general-purpose military stock GSA NSN 5110-00-162-2205

Aluminum foil. Legs are broken in a crash, you are not going very far, you use the foil to cook your grubs and other insects you find while crawling on the ground, insects are easier to the palate when cooked.

Plastic bag your kit came in. Holds water and becomes a cup

Survival Blanket

Candles-allows the saving of matches

Fire Starter brick

Fish hooks-3 sizes

Fishing Line, 30 lbs. 20-feet

Sinkers -2

Dental Floss-1 spool- the unbreakable string 

Band-Aids 3

Large Gauze Pad-1

Alcohol Swabs-2

Kit weighs 10.5 ounces