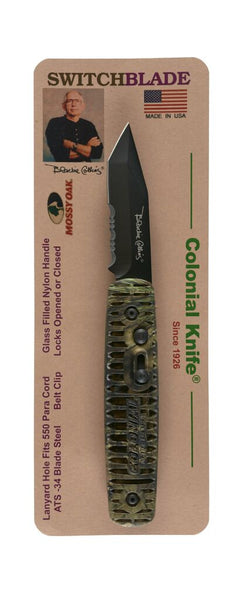 Colonial Knife
TACTICAL KNIFE RANGER SERIES model 114
Tactical Knife Model 114 knife from the Ranger Series
made in America, also commonly known as model 114, Mossy Oak Green, with its non-slip texture frame manufactured of nearly indestructible polymer offering the strength of aircraft aluminum without the weight. ATS-34 blade steel, tip-down carry, lanyard hole accommodates 550 military parachute cord.
The opening of the blade is fast and positive. Design of handle by Adam Smith of the Rhode Island School of Design (R.I.S.D.)  and prototype at Brown University, blade designed by the legendary Cutlery Hall of Fame Walter "Blackie" Collins, offer the user a heck of a value for a design that employ quality American manufacturing, top-grade materials and the talents of a famed knife maker. 


The Paolantonio brothers came to the United States from Italy prior to 1912. They already had experience at making knives when they came to this country from Frosolone, Italy. The brothers, Frederick, Dominick, and Anthony worked for the Empire Knife Company of Winsted, CT for a few years. The Brothers all left Empire and separately formed four separate knife companies between 1914 and 1926. Finally, in 1926 the brothers united to form Colonial Knife Company, located at 9 Calendar St. Providence, Rhode Island. The business thrived and they moved to 287 Oak St. and have been manufacturing knives there until 1999 when Colonial moved once more to 61 Dewey Ave, Warwick, Rhode Island, in 2018 we moved our manufacturing facility and offices. The new company office is now located at 606 Ten Rod Road, North Kingstown, Rhode Island.
Handle length: 4.25-inches