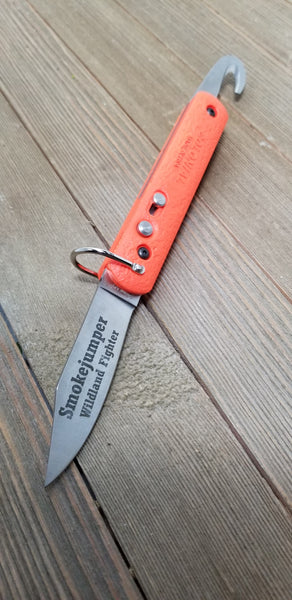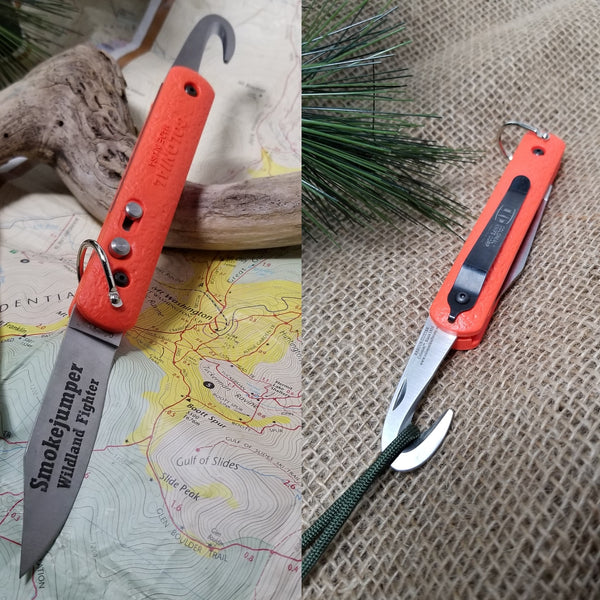 Colonial Knife
SMOKE JUMPER Knife
SMOKE JUMPER MODEL 735 PARACHUTE KNIFE ORIGINALLY DESIGNED FOR U.S. PARATROOPERS AND USED BY EVERY BRANCH OF SERVICE FOR THOSE WANTING TO JUMP OUT OF A PERFECTLY GOOD AIRCRAFT.  U.S. MILITARY PILOTS CARRY THE SMOKE JUMPER KNIFE WITH THE BAIL ATTACHED TO THE CORD ON THE FLIGHT SUIT INSIDE LEG POCKET, PILOTS TAPE THE BLADE SHUT AND LEAVE THE HOOK (AVAILABLE ON THE MILITARY ISSUE PARATROOPER KNIFE) IN THE DEPLOYED POSITION SHOULD THE NEED TO DITCH IN THE WATER AND HAVE TO CUT THE LINE CONTACTING THEIR LIFE RAFT TO THE SINKING AIRCRAFT, PLUS THE NON PUNCTURE CUTTING EDGE WILL NOT PUNCTURE THE LIFE-RAFT. SINCE THE 1960'S WHEN THE THE M-724 MILITARY ISSUE PARATROOPER WAS FIRST ISSUED, MILLIONS HAVE BEEN MADE AND TODAY IS ONE OF THE MOST RECOGNIZED KNIFE DESIGNS IN THE WORLD, ESPECIALLY WITH THE MILITARY AND FORMER MILITARY MEMBERS.
The 735 Black has a pocket clip and non serrated manual blade, push-button one hand opening primary blade with 1/2 serration.
The model 735 Rescue Military Orange has a pocket clip and serrated manual blade with one hand push-button blade deployment with the primary blade having a 1/2 serration
The model 735 Mossy Oak has a non-puncture shroud cutter hook, carry bail with the primary blade being push-button one hand opening with 1/2 serration. 
Weight Of The 735 3-ounces
Blade Length 3.75-inches
Manual Blade Length 1.75-inches
Shroud Cutter, Manual Opening -Non Puncture 
Handle Length 4.5-inches 
Made In U.S.A.
---